Humor:
Dam Right: Posted May 30, 2009 - Very humorous, but probably a fiction. But it does protray the type of American we need more of in this country. It's worth the read just to see the kind of backbone an American could have.
---
Various Authors, Misc. Topics:
Congressman James Trafficant addressed the House of Representatives: Posted January 27, 2009 - This document outlines what has occurred in American and to the American people. If one is seeking and understanding to the problems facing business and the failure of our economy in an easy to follow language, this document is for you. Some time after making this statement Congressman Trafficant was criminally and went to prison for a period of time. However, more and more Americans are assigning less and less negative connotation to jail these days since everyone has seemingly become an enemy of the United States. Consequently his observations are probably worthy of one's time.
Maritime Law Secretely Imposed: Posted January 7, 2009 - As the united States of America was founded, neither Admiralty nor Maritime law was to be upon the land. This law form was to remain in the District of Columbia. I have highlighted the District to get the reader recognizing that this is a foreign jurisdiction, outside the Republic of the united States of America. The phrase "law of the land" has a specific meaning. It's origin is English and has roots at least as far back as the Magna Carta. The "law of the land" is the common law. This is the law of the republic of the united States of America and is referred to as "law" to distinguish it from equity, Admiralty & Maritime. A reference to law in this document is most likely a reference to common law. Admiralty/Maritime law was never intended to be upon the land. While the original constitution provided for a full time Navy to protect our borders, it provided that funding for an Army not exceed two years. Thus preventing Admiralty/Maritime law encroaching upon the land. The common law is a harsh, yet just body of law. For one thing, an injured party is a necessary element to an action. Under Admiralty/Maritime law, it is not necessary for anyone to be injured as a prelude to an action. Thus, there are now many people in prisons and jails who have not harmed anyone. This document exposes the fraud and deception that has allowed Admiralty/Maritime law to take over our country and create the largest, per capita, prison population the world has ever know, exceeding China, Russa, & Germany in the past century. Those who have read Dot #2 - War & Emergency Powers already know that all law is commercial.
What IF? Posted March 5, 2009 - A short document (less than 2 pages) that poses a series of questions which we American's should be considering. To discontinue believing the misinformation we are being fed is long overdue. If we don't know the answers to these questions, then we need to pursue getting an answer. We certainly should not depend upon the main stream misleadia to get the answers for us.
How Long Can We Keep Our Eyes Closed?: Posted July 8, 2007 - This document contains an op-ed piece taken from a recent edition of our local news paper. It examines some recent police actions within our country and suggests that we may have some concerns.
An Educational Letter: Posted July 1, 2007 - This letter is written by a Canadian and although it is addressed TO WHOM IT MAY CONCERN, it is clear that it is targeted for government officials and agencies. It is posted here because it has merit and use in the American legal landscape, remembering that the Constitution mandates a republican form of government and that the law of the Republic is the common law. It hinges strongly on the "Rule of Law" which states in part, that conflict is avoidable, unnecessary and undesirable and that when it raises its head we are to deal with it using discussion & negotiation, and then if necessary, adjudication in a court of competent jurisdiction.
Rule of Law: Posted July 1, 2007 - Support information for the Educational Letter above. The "Rule Of Law" is foundational to the system of government here in America and should be taught in the American school system and understood by all Americans.
An Enormous Crime: Posted June 2, 2007 - In the earlier days of this web site, I had reservations about how strongly I suggested that government has become criminal. But now, over 10 years later, I suspect that a large segment, if not a majority, of the American people have began to realize that government has become criminal, although they probably have varying degrees of this understanding. This short write up, less than two pages, covers the topic of An Enormous Crime committed and covered up by government officials of the highest level. The write up is a synopsis of a book now available and I leave it to the reader to determine its merit.
Iran: Posted April 4, 2007 - Restructured January 22, 2009: This document is not getting the attention it deserves. The Global Elite's plans for Iran, are their plans for anyone who resists global domination and it would be prudent of us to review and understand these plans, for they are being implemented here in the United States. The threat that Iran poses to the New World Order Banking Elite is very high. We, of course, are being psychologically profiled to hate the Iranian people and all that they stand for, but maybe we should be cheering them on. Take the time to read this document and see the plan(s) for you, your children and your grandchildren, and see if you like those plans. Author: Ellen Brown.
Where's The Gold? Posted November 25, 2006 - I received this document as an e-mail, without the author noted, but it is a document worthy of sharing. It is short and very informative. I have made some commentary at the beginning so as to make it more understandable to the less informed reader and I have also made some minor edits. The document essentially informs the reader that the money and other earnings transferred to government are done so as a gift that you voluntarily make. The trick is to quit volunteering. This author, like many, have knowledge to share and have taken the time to share that knowledge, and in this case without credit. Thank you.
Signing Without Liability: Posted November 22, 2006 - Those of us who have been studying the methods of government for some time are aware of the strawman issue. Those who are not, it is simply this... the creation of a strawman (a fiction) to whom the individual (real human being) can be held liable for. The goal is not to be liable for this fictional character who was created by government as a means of defrauding us of our hard earned money. And that is what this document is about, how to be free of liability of our strawman. For those who need a little more understanding, I have included a primer, written by myself, that should provide a foundational basis needed to understand the document. Those with a fair understanding may skip the primer and go straight to the document. This document makes reference to filling a Uniform Commercial Code Financing Statement. To access a U.C.C. Financing Statement (UCC1), click the blue link. The reader may also wish to read "Accepted for value" and also visit the OID 1099 site.
Justice Dispensed
Understanding the Political Mind: Posted September 8, 2006 - A friend forwarded an e-mail whose foundational purpose was to allow me to understand my own perspective or perception of a commonly used term. Since I had been exposed to this particular subject before, I had already developed a fair understanding. However, this e-mail gave me an opportunity to share my development and to include that of the mailing. The e-mail itself certainly has some solid information to share. I found it worthy of putting on the web page for others to cruise.
Invisible Contracts: Posted August 9, 2006 - If you have read Perceptions or Sui Juris, Pardon me but... #5, you know that there is corporate law, and there is law of the Republic. Corporate law is applied through contract, even if the corporation is the STATE OF YOUNAMEIT or the corporation you know as THE UNITED STATES. There is a Republic of the united States of America, that is generally known as these United States (not THE United States). The singular reference is the corporate structure while the plural reference is the Republic. That is why the Clearfield (318 U.S. 363) decision is so important. Without a contract (that meets the six elements of a valid contract) government has no authority to compel a specific performance. With a contract, it does not matter whether Congress passed the sixteenth amendment to the constitution (the so-call income tax amendment), because the contract to pay taxes is outside the protections of the constitution. Therefore, no constitutional argument is valid. Government has become a commercial enterprise, operating upon the American people through contract and commercial law. Quit contracting with government, or strike out those clauses you do not sanction or support when signing a document, and they will not have the contractual language to compel you to do something that you really do not want to do. This document makes that point and does so with great substance. Read this and understand how control is exercised over you.
Baby's with no birth certificates nor social security numbers - updated - Originally posted May 7, 2005; Update Posted June 17, 2008: This document, in my view, has not received the attention that is due. I suspect that its importanace may be overlooked. It is a fact that the constitution of the united States of America exists only so long as there are state citizens, or if you prefer, citizens of the Republic of the united States of America. A United States citizen is not a citizen of the united States of America. Look up the term United States in Black's Law Dictionary (sixth edition - it is not listed in the seventh), and you will see that there are three United States. The United States citizen is a citizen of the corporate United States, not of the Republic. This mother and author of this document has taken the steps to give her child the freedom provided in being a citizen of the Republic of the united States of America and not the obligations of corporate citizens of the United States. In order to gain a more solid footing in understanding the importance of this issue, I have provided some support information preceeding the original document by the mother. It is a short paper written by a mother who has taken serious the job of parenting. Thinking of someone beside herself (in this case her child) she put forth the effort to understand numerous matters related to citizenship, and contractual obligations acquired through Social Security and Birth Certifications. Both create obligations not generally understood by Americans and are a voluntary undertaking. We many not realize it but by acquiring a social security card and number for our newborn we are publically declaring that we, as parents, can not be responsible for this newborn child and are petitioning the federal government to take care of this newborn from craddle to grave. Since we can not be responsible for our child, we have made government the parent. This is why the government has the authority to take the child from its babysitter (formerly the natural] parents and place the child wherever the government parent deems suitable. By virtue of developing an understanding of these matters she made the decision not to acquire a government issued Birth Certification nor Social Security number for her daughter when she was born. In other words, this mother decided not to burden her child with many of the obligations of commercial law created by the acquisition of a Social Security number and Birth Certificate. By not placing this child in the government's care, there is no legal foundation for the government to take custody of this child. In the document this lady shares her hospital experience and other information that might be of interest to any parent considering the retention of freedom for their child. For the moment, and probably for good reason, this mother has chosen to remain anonymous, but questions can be routed through this web site.
Mary's Book: Link updated May 20, 2009 - "HOW I CLOBBERED EVERY BUREAUCRATIC CASH-CONFISCATORY AGENCY KNOWN TO MAN". Mary has updated her book and this link has been changed accordingly. This link is to another web site, however the book is in Acrobat so it may be saved to your hard drive once downloaded. Mary has perceived our problem of contractual obligations very accurately. She has a straight forward style of writing that outlines the problem in a manner that can be quickly absorbed and understood. She has not only has identified the problem, she has taken steps to protect herself, her productivity and her children. Mary does an excellent job of helping the reader understand that virtually all law is commercial. Driving law, military draft law, public school laws, marriage law (which includes children), building permits... virtually all law is applied by contract. She will teach the reader how to avoid unwanted contractual obligations. She has acted on her knowledge and provides you with the tools to do the same. Many readers will probably not fully understand her perspective and position without a primer. To that end I have taken the liberty to compose a short primer that will quickly bring the reader up to speed, allowing him (or her) to hit the ground running. You may view the primer by clicking <here>. This book is more than worth your time to read.
Mary Croft's blog and download site: For knowledge and stimulating your mind!
Mary's Book Restructured: Posted August 12, 2007: A Primer for Mary's Book: Before Mary updated her book, I took the time to restructure it a bit without changing the meaning in any way. The recent update to her book may well have rendered this restructured version un-necessary or of no value. Since I have not had an opportunity to read the updated version I'm not certain of the value of this restructure. The remainder is what I had to say before Mary updated her book...
I have, since the outset, identified Sui Juris, pardon me but... #5, as the best reference and learning text on this web site. And although I still maintain this position, especially for a beginner, Mary's book is a competitor. Mary's book is even more telling than Sui Juris, but to fully understand her presentation, you must already posses a considerable amount of knowledge. But Mary's book goes far and beyond Sui Juris in presenting pertinent information. However, the book, as I downloaded it in Acrobat format, was structured a little awkwardly, at least for me, and I suspect for others as well. But what Mary has to say is so important and so on target, that I have taken the liberty to restructure her text while maintaining her content. I have changed some of the spelling of words, not because they were incorrectly spelled, but because they were spelled correctly for a culture other than the united States of America. Many readers will probably not fully understand her perspective and position without a primer. To that end I have taken the liberty to compose a short primer that will quickly bring the reader up to speed and allow him to hit the ground running. You may view the primer by clicking <here>. This book is more than worth your time to read. Mary uses some acronyms and abbreviations throughout out her book and I would advise printing out the page or two of these acronym notes so that when you encounter one of the abbreviations, you can make a quick reference rather than returning to find the page with the notes.
LAND PATENTS Memorandum of Law, History, Force and Effects: - Posted December 25, 2004 (Merry Christmas America): Although I don't know how it could have happened, public education has failed to teach American's about allodial title to property. All property in the united States of America was set up to be held in allodium. So that we are all on the same page we should probably define these terms.
"Allodial. Free; not holden of any lord or superior; owned without obligation of vassalage or fealty; the opposite of feudal." - Blacks Law Dictionary, Sixth Edition.
"Allodium. Land held absolutely in one's own right, and not of any lord or superior; and not subject to feudal duties or burdens." - Blacks Law Dictionary, Sixth Edition.
When property is held in allodium, all police powers are removed from the property. There are no building permits required and there are no property taxes (feudal duties) due. When property is held in allodium, the title is called a Land Patent. This book appeared only briefly a number of years back and then seemed to disappear and is now virtually impossible to find. A search for this book was conducted on the web in several used book depositories and not a single copy was found. Ultimately, an individual, very capable in web searches and acquisitions, was able to run this down and it was his Christmas gift to me. It is Christmas day, and I am posting this on my web site for my fellow American. Merry Christmas.
WHETHER THE SECOND AMENDMENT SECURES AN INDIVIDUAL RIGHT: Posted January 27, 2005 - This opinion, taken from the governments web site, is an in-depth look at the second amendment. I suspect that, given its source, many of you will be surprised by the position developed. For those needing support in their second amendment arguments this document is a must. The government link from which this document was downloaded is:
http://www.usdoj.gov/olc/secondamendment2.htm
NOTE: The above Department of Justice (usdoj) link has now become inactive. However, you may still view the document on this web page by clicking the upper link in this section.
Additionally: I recently came across interesting language pertaining to the right to bear arms in United States v. Cruikshank 92 U.S. 542. Do not prejudge this language before reading the entire text. Here is the language of that section:
"6. The right to bear arms is not granted by the Constitution; neither is it in any manner dependent upon that instrument for its existence. The Second Amendment means no more than that it shall not be infringed by Congress, and has no other effect than to restrict the powers of the National Government." United State v. Cruikshank 92 U. S. 542
h
h
h
h
h
h
h
h
h
h
h
h
h
h
h
h
h
h
h
---
Health Issues:
Open letter from world scientists to all governments: Posted May 19, 2008 - For many years now (since the early 1990's) I have been aware of the intent of the world elite to reduce this worlds population by whatever means is available. And although many have dismissed this assertion, it is clearly set forth on the Georgia Guide Stones, which are massive granite stones with a message to the world in no less than eight languages. The first goal set forth on these stones is the reduction of the worlds population to 500 million. Given today's world population (2009), this means that 9 out of 10 of us are going to be eradicated under this goal. That is 9 of 10 clerks, 9 of 10 truck drivers, 9 of 10 teachers, 9 of 10 police officers, 9 of 10 judges, 9 of 10 of everyone except the world's elite. This open letter is 4 pages in length with 19 pages of support references and signatories to the letter, their titles and qualifications. The letter targets GM (Genetically Modified) food. It reveals the dangers of GM food to human health and cites the fact that genetically altered vegetation kills the pollinators (bees and others). It goes on to inform us that genetic altered vegetables leads to the evolution of new viral strains that will threaten mankind and be resistant or immune to antibiotics. This is not going to happen, it is happening! This document relates directly to your health and survival, and the health and survival of your children and other loved ones. Therefore, as much as we do not want to, we all need to read this letter and understand its content.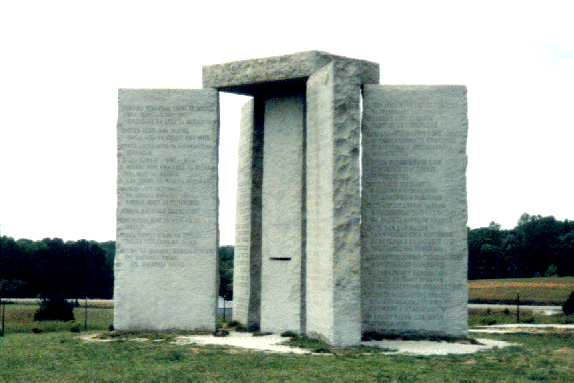 Georgia Guide Stones
h
h
h
h
h
h
h
h
h
h
h
h
h
h
h
---
Education
An Underground History of American Education: by J. T. Gatto. Posted April 8, 2006 - Since its posting back in 2006, this has been a very popular download, always appearing in the top 5 and most of the time, in the top 3 downloads. I've been somewhat critical of public education and that was clear in the "Educational Question", posted in the Michael Keehn section. But my criticism of the public educational system is in the view that the system failed to provide a knowledge and understanding of critical elements in societal function. For example, there was no education related to the fact that the United States has been operating under War & Emergency Powers since 1933 and not under lawful civil authority. The public schools I attended never once revealed that there was a significant difference between State Citizenship and United States citizenship. They never once touched on the arena of contracts and expecially invisible contracts. How we enter into invisible contracts would have been especially useful in life here in America since everything is commercial. Another element (commercial relations) they failed to teach. However, there were those teachers along the way that did try to get past the restrictions and limitations placed on them by the system and actually educate us children. But these teachers, even today, run a risk of censure by the system they are dependent upon for their income and survival. John Gatto, a teacher for over 30 years, with may citations under his belt, is much more substantive and researched in his views of public education here in America. His writing style is a little bit scholarly and adjusting to it will take a little effort, but it will be worth the energy required. This book is a must for any parent who proclaims to care about their child or children. Not to read it will be a disservice to them. For the more mature student (those in high school), this book will give you a perspective of the disservice public education has foisted upon you, and all of America in general. Students who read this book will, through the knowledge gained, be able to begin asking questions of their educators and administrators. Questions that may make them uncomfortable, but stay the course student. Be polite, yet persistently request that your questions be answered. Teachers, hold on, if this takes hold and becomes common knowledge a new wind will begin to blow. This book is on the web and that is where I acquired the text from which to create this .PDF document. View the table of contents here! While I had viewed a 7 minute video on the topic of teaching same sex marriage to kindergarten children in Massachusetts, and although I provided the link when I made this original posting, I just tried to view it again (November 6, 2009) and I find the link is no longer operative. It was definitely heart wrenching.
h
h
h
h
h
h
h
h
h
h
---
Orland Sand & Gravel:
A Businessman's Position: Posted March 19, 2005 - This document is the position held by a businessman in Orland, California. All businessmen who must deal with the myriad of alphabet regulatory agencies should read this document related to corporate government and the burdens government acquired when it became corporate. If you should read this and wonder how it is playing out, take a look at the document below... "Affidavit".
Update: January 20, 2007 - The trial of Mr. Bogart is now over and the jury voted 8 to 4 in favor of an acquittal. With the completion of this trial, there is added, yet another chapter to the Affidavit. A little less than two pages, but there is important points made and these points will be especially revealing to those who have participated in the trying of Mr. Bogart, both government employees and private citizens. That which has been added will be of benefit to those who may find themselves in a similar situation and points to the need to read the Belligerent Claimant document on this web site.
It is to be noted that the judge declared a mistrial and the prosecution has added an additional 5 counts to the charges against Mr. Bogart and Orland Sand & Gravel. There were 12 original counts that the defendants were operating without a streambed alteration agreement and now, that the defendants had a valid streambed alteration agreement but violated it. And according to the Fish & Game code under which this action is taken, all of this is a civil matter, not a criminal one. Figure that one out.
OSG UPDATE; July 21, 2009: For those who have been following this drama and know that criminal charges were filed against Orland Sand & Gravel and its owner, "Doc" Bogart, I have the following update: The contest between Government and Mr. Bogart, which began back in 2003, ended in June of 2009. The government dropped all charges against both defendants. Just like the ad campaign which tells us to just say NO to drugs, we need American's who just say NO to government's criminal behavior and unconstitutional intrusions into our lives. Undoubtedly the goal was to put Doc Bogart out of busienss whatever it took, even if it meant manufacturing charges. And this points to the reason "we the people" need to be on juries... to protect each other when there is no injured party. Someone needs to take a stand, and the rest of us need to step up to the plate and help protect & support them. It is time that we Americans begin pulling together and depending on each other, not government.
Affidavit: Originally Posted July 6, 2006 and updated January 20, 2007 - An Orland, California man purchased the controlling stock in Orland Sand & Gravel in 2002 becoming the CEO of this small company. After doing so he began a general clean up of the facilities and property, including the removal of some trees that were in the way of operations. With the removal of the trees here came government officials, in this case officers of Fish & Game, who told Doc Bogart to stop his activity. They then sent him a letter that amounted to a 'cease and desist' order.
The position of Fish & Game was that the stream bed alteration agreement was not transferable. This seemed strange because the agreement (a contract) was not held by the previous primary stock holder, it was held by the corporation, Orland Sand & Gravel. The letter from Fish & Game effectively shut down Mr. Bogarts operations and so Doc [Bogart]determined that he had very little choice other than to file a law suit. Either Fish & Game had acted without authority, or the previous primary stock holder had engaged in a fraudulent sale. It certainly seemed that Fish & Game was more likely to have acted without authority, for if what they were saying were true, then every corporation in America would be required to renew their permits every day by virtue of the stock transfers taking place on the New York, American and other stock exchanges. And we all know that is not the case.
And so that is where this story begins. Today, June 6, 2006, Doc (as well as Orland Sand & Gravel corporation) now has 12 counts of exactly the same misdemeanor charge filed against him by the California Department of Injustice. Of interesting note is the fact that Doc and his corporation are charged under Fish & Game law, but Fish & Game is not a party to this action. It is strictly being pursued by the corporate STATE OF CALIFORNIA, DEPARTMENT OF INJUSTICE. For three years now, the corporate STATE OF CALIFORNIA has been trying to get money from Doc in one way or another and bring him to heel. Compliance, compliance, compliance. As if we are all their slaves.
In this matter he has met the governments frivolous and dishonorable behavior in substance. He has made a case that government has become criminal in nature and it certainly appears to be a valid case. His trial is scheduled to begin tomorrow, July 7, 2006 and so he has been engaged in preparation. One of his concerns, and a valid one at that, was that the court, being controled by government interests, may attempt to exclude much of what has transpired, leaving the jury with only a partial and incomplete picture of what has transpired. If this were to occur the jury may not see his sincere efforts to deal with government and the governments total failure to respond to the issues raised.
In an effort to make certain that his story could not be excluded from the proceedings, Doc, working with a friend, has composed an affidavit of facts surround this entire event. Since his stand is not only for himself and his company, but is also for all of America, his story merits inclusion on this web page. His affidavit is about 88 pages in length. It includes letters sent to government and allows the reader to form their own opinion.
It was probably wise of Doc to compose the affidavit for as I understand it, there is a motion, entered by the government, that would exclude anything beyond 7 months ago. Yet it is the actions going back to 2003 that has brought this matter to its current status. But it is generally not possible to predict how dishonest our legal system is going to be in any legal matter.
UPDATE: July 8, 2006; to the credit of the judge, he has not allowed the governments motion to exclude all that occurred prior to 7 months ago.
This Affidavit of Facts is a very powerful document and it is probably worthy of your time to read. This is a follow up to the document above this one... A Businessman's Position.
January 20, 2007 Update: The trial of Mr. Bogart is now over and the jury voted 8 to 4 in favor of an acquittal. Evidently, Deputy Attorney General Thorpe, the prosecutor in this matter, is furious. The word is that he wants to recuse the judge and enter a motion for a change of venue, that is to have the next trial moved to another location where the government has a better chance of conviction. With the completion of this trial, there is added, yet another chapter to the Affidavit. A little less than two pages, but there is important points made and these points will be especially revealing to those who have participated in the trying of Mr. Bogart, both government employees and private citizens. That which has been added will be of benefit to those who may find themselves in a similar situation and points to the need to read the Belligerent Claimant document on this web site.
h
h
h
h
---
Economy:
The Financial Crisis (2008-2009): Posted April 17, 2009 - This analysis provides a detailed explanation of the events that have led up the current financial melt-down throughout the world. Authored by Bruce Wiseman, the writing style is personable and easy to follow with a hint of sarcasm and wit. It is an enjoyable read, with some wisdom for the reader.
A Watchmans Word to America: Posted June 30, 2006 - A watchman... a person who stands watch and sounds the alarm when he sees something. Yes, this document begins with a bit of a sermon, but I would suggest that you not be put off by this and if this part is a bit much, then jump to the meat of the construct. When I posted this in 2006, the economic meltdown of 2008 had not yet occurred and at that time I had this to say...
The document is a little over 16 pages in length and informs us of events that have taken place (some history) and some events that are probably about to occur, and the potential end result. It is probably going to make a number of us uncomfortable. It the case of this particular document, is not my intent to convince anybody to believe it, nor to disbelieve it. My only goal here is to make the information available, so that those who are so inclined, can evaluate it for themselves. After reading this document some of us will begin an analysis of our situation and probably begin some preparations for the possibilities that we see.
Well, the events of 2008 have certainly given this document some credibility, but I do not think that the economy is really on the path to recovery, and in my reading, neither does this document. And even though we have had a 3.8% increase in our economy in this past quarter (its now October, 2009), I do not see anyone dancing in the streets. I think that there is a good possibility that the economy will rebound a bit as it has been doing, but ultimately continue to decline.
h
h
h
h
h
h
h
---
Great but non-political messages:
A Message to Garcia: Posted August 4, 2006 - Has anyone else noticed the general incompetence in our population? This is a document about all of us, especially in business, who must rely upon someone else doing their part while they struggle to avoid doing their part. In this document, Rowan, who we need more of in this world, does his part. It is an excellent training and instructive tool in the American work place.
h
h
h
h
h
h
---
Thought Provoking Extracts:
Charly Gordon: Posted March 30, 2008 - Less than 2 minutes to read, this is a short excerpt of dialog from the movie CHARLY, staring Cliff Robertson. It is thought provoking and worthy of consideration.
h
h
h
h
h
h
h
h
h
h
h
h
h
h
h
h
h
h
h
---
Mr. Dan Goodman: Author of "State Citizenshiip is Alive and Well."
An Introduction: Probably few things in our lives is more important than understanding our citizenship. Yet, public education almost completely ignores this subject. Our citizenship determines our burdens and oblications, and to what body of law we are subject. Most of us begin life as a "State Citizen," being born in the republic of the united States of America. State Citizenship is original Citizenship of our republic, the States being "independent nations" at the signing of the constitution. Also remembering that the constitition did not take away the "independent nation status" of the Union States. But by virtue of our educational processes, we have come to believe that we must have a "social security NUMBER" and to get one we declare ourselves to be a citizen of the United States (District of Columbia - which is a municipal corporation). By virtue of this we have subjected ourself to a jurisdiction outside the republic of the united States of America (a foreign jurisdiction). The District of Columbia jurisdiction is not inclusive (inside the republic) it is exclusive (outside the republic). By virtue of declaring ourself to be a United States citizen to get the SS Number, we subject ourself to the laws of this jurisdiction. Those Americans who only hold State Citizenship are not subject to the jurisdiction of the District of Columbia or its commercial (non-positive) laws. State Citizens are subject to the constitutional law (positive law) of the republic, not corporate (commercial) law. The preeminent decision of the matter of State Citizenship is the "Slaughterhouse cases."
In this vein, the author of "State Citizenship is Alive and Well," Mr. Dan Goodman, has made available several published articles for posting on this web site. The first in this series sets forth that the Slaughterhouse Cases established two classes of citizenship and is titled "Slaughterhouse cases, Two Citizens." The second article is "Slaughterhouse Cases, Up Close." Two additional articles complete this series; they are "Two Citizens Under The Constitution" and "Privileges and Immunities of a Citizen of the several States." Another is titled "Mistake in the Syllabus" and shows a mistake in the Syllabus to the Slaughterhouse Cases with a footnote to the Slaughterhouse Cases opinion itself. Recently, more articles have been added as shown below. In reviewing this material, the reader will need to understand what it means to "reside." We mostly think this simply means 'where we live.' It means much more. "Reside" is what we do when we live in a location that is NOT the home of our citizenship. For example, if a Frenchman comes to your State to live, he "resides," because your State is NOT the home of his citizenship, it is France. If you hold United States citizenship, then your citizenship rests in Washington, District of Columbia, therefore, you "reside" in whatever state you are living. If you hold purely, and only, State Citizenship, then you DO NOT "reside" because you are living in the home of your citizenship - a Union State of the republic of the united States of America.
For anyone serious about their citizenship status, these articles will be valuable in developing an understanding.
Slaughterhouse Cases, Two Citizens: December 8, 2008
Slaughterhouse Cases, Up Close: December 8, 2008
Two citizens under the Constitution: December 8, 2008
Privileges and Immunities of a Citizen of the several States: December 8, 2008
Mistake in the Syllabus: December 8, 2008
From Dred Scott to Slaughterhouse: January 17, 2009
The Effects of the Fourteenth Amendment: January 17, 2009
Another Look at Slaughterhouse: January 17, 2009
Diversity of Citizenship: Who is a State Citizen?: January 31, 2009
State Citizenship does not relate to Privileges and Immunities of citizens of the several States: January 31, 2009
State Citizenship: In a minute: February 12, 2009: Short Tutorial - 1.5 pages

A Look at Corfield (On Citizenship): March 7, 2009: This article deals with the case of Corfield v. Coryell. If you believe this case, opined by Justice Bushrod Washington, is legally dead, be prepared to be shocked. The author, Dan Goodman, shows that Corfield "is still the first, and leading opinion" on Article IV, Section 2, Clause 1 of the Constitution, the Privileges and Immunities clause. In addition, Mr. Goodman proves how the Supreme Court, in the Slaughterhouse Cases, use Corfield to establish the privileges and immunities of Article VI, Section 2 to a citizen of the several states. My favorite, though, is that there are two citations (two different years) to the Corfield case, and that the Supreme Court makes references to both citations, with both different years (4 total). Finally, an embarrassment by the legal profession we can all be proud of.

The Effects of the Fourteenth Amendment on the Constitution of the United States: More - April 14, 2009

A guide to the constitution: November 3, 2009: This document proivdes a fairly indepth understanding of the Constitution for the united States of America.
Article Introduction:
This is it folks! Author, Dan Goodman, has done it. Finally, proof from the Supreme Court itself that there are now two citizens under our Constitution since the adoption of the Fourteenth Amendment.
If you had any doubts, prepare yourself, for a real shock. Read this article and find out how the Supreme Court notified the legal profession (and the public) that the 14th Amendment converted the Comity Clause in the Constitution, that is; Article IV, Section 2, Clause 1, into a Citizenship Clause. Article IV, Section 2, Clause 1 now relates to a citizen of the several States. And this was done before the Slaughterhouse Cases!
The author has included a federal case in which the judge "examines if a corporation is a citizen of the several States, under Article IV, Section 2, Clause 1 of the Constitution of the United States or if it is a citizen of the United States under the first section of the Fourteenth Amendment (from article)."
Superb!
Citizen of the Several States legally defined: September 30, 2009 - There is a difference between a citizen of the States, and a Citizen of the Several States. This document defines the Citizen of the Several States.
Citizen of the States legally defined: September 30, 2009 - AND this document legally defines the Citizen of the state.
h
h
h
h
h
h
h
h
h
h
h
---
by Michael Keehn: (producer of this website)
I begin by saying that in my document construction I have attempted to provide the reader with accurate information, remembering I am still human it becomes the responsibility of the reader to confirm any information set forth in these documents.
INJUSTICE... the root cause: Posted September 10, 2006 - This document suggests that there is a focal point to all the problems we face in our dealings with government. We American's have a profound sense of fair play, and when government engages in actions that tilt the playing field to benefit others at our expense, or take away our freedoms and choices, we become incensed, angered, frustrated, demoralized, and loose faith in our government and elected officials. While we may have issues about one thing or another that we feel is un-just, and even though we may become politically active to correct this [single] injustice so near and dear to our heart, there may be a root cause that is central to that which is causing all this un-just policy and actions in government. Although I have been contemplating this subject matter for some time, it was only recently that I was reading a document, composed by another patriotic individual concerned with this country (his country), that provided some knowledge and insight that allowed me to complete my thoughts and compose the document linked here. For me personally, this is where the rubber meets the road. In this writing I am taking note that the emperor has no clothes. I do not provide a great deal of supporting information for the assertions made. It is my hope that the reader will do the necessary research to confirm or dispel that which is questioned. If you are new to world of government injustice it will probably be a bit bumpy.
h
h
h
h
h
h
---
Other Links of Interest:
IRS form OID 1099 (Original Issuance Discount): Posted January 27, 2009 - For those having interest in this topic I might suggest following the link. Click on the "Conference Calls" tab and slected a date to listen. I have not listened to all of the calls, but I found the call of January 8, 2009 interesting. There are probaly many more, but this date will give a newbie some idea what the filing of IRS form 1099 OID is about. This process is somewhat complicated and it is my recommendation that no one should undertake this process without full knowledge and understanding.
The Federal Zone: Several documents on this web site make the point that the District of Columbia is not inclusive (inside) the republic of the united States of America, it is exclusive (outside) [See Sui Juris, Pardon me but... #5]. The jurisdiction of the District extends to anything it owns... Guam, Wake, Virgin Islands, Puerto Rico for example, also to any property within the states such as military bases, federal buildings or any federal enclave. The Buck Act provided the means to apply the Public Salary Tax Act of 1939 in the several states by allowing the states to incorporate under the laws of the District, making the corporate State of YouNameIt subject to the laws of the District and additionally responsible for the debts of the District (the National Debt). It is by this means that the income taxing power that exists in the jurisdiction of the District only, has been extended to the (corporate) states but not the States of the republic which still exist but have been overlayed by the corporate structure. In order to be subject to this income taxing power, it is necessary for you to volunteer. Those that have not volunteered have a unique name in the internal revenue law. They are called non-resident aliens. These are people who were born in the republic but have not acquired a Social Security account, which generally requires that they declare themselves to be United States citiznes (citizens of the District of Columbia). Understanding this terminology (non-resident alien) is a little easier with just a little explanation. First is reside. Reside is what you do when you live in a place that is not the home of your citizenship. For example, a Frenchman living in California resides because California is not the home of his citizenship, France is. Those of us holding Social Security accounts checked the box identifying us as a United States citizen (District of Columbia citizen, which is not inside the republic). So, if we do not have a Social Security account and have not altered our citizenship, then we are a State Citizen, or a citizen of the republic. Therefore we are living in the home of our citizenship, the republic. And therefore, we do not reside (non-resident). And since income tax laws come from the jurisdiction of the District of Columbia, which is outside the republic of the united States of America, then those holding only State Citizenship are a foreigner to this jurisdiction, not having any attachment to it. Thus they are alien. Making the individual holding only State Citizenship a non-resident alien. It becomes somewhat confusing because most of us hold both State Citizenship and United States citizenship [See the fourteenth amendment which conferred citizenship on the freed slave - 1868]. The "Federal Zone" does an excellent job of explaining these matters in a way that the average American can understand. Understanding this topic may well help the individual, but more importantly help his (or her) unborn children.
h
h
h
h
h
h
h
h
h
h
h
h
h
---
Video Links
Marc Stevens
Marc Stevens' Website: Posted August 29, 2007 - There are numerous audio and video files here that are enlightening. Marc is energitic, engaging, and to me, a delightful person to listen to. Marc's book, "Adventures in LegalLand" is very informative, I have read it and I recommend it. In the audio clips, Marc is going to say some things, which, if you are not a little prepared, will not seem to make sense, sometimes, even to the host of the radio program on which Marc is appearing. There is much to be learned from Marc.
h
h
h
h
h
h
h